Let me start off by saying... I love
Milani
products! Their blushes, eye shadows, and eye liner are all fabulous and equivalent to that of department store brands. This is why I decided to try their cream foundation. (Well, the persuasive
MakeupAlley
reviews helped, too.)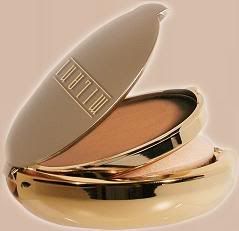 My hopes were high. I've tried cream foundations before: Revlon New Compexion (smudges too easily, but good coverage), various Clinique compacts, Max Factor's Pan-Stik (mineral oil city), and probably others along the way. I had been using Milani's mineral compact prior to this, which I like a lot, and I figured this cream foundation would up the ante, coverage and moisture-wise. Boy, was I wrong.
First off, this product has a strong scent. It smells like, for lack of better terms, "old lady makeup". It has that
heavy
baby powder perfume odor. Actually, it smells just like Max Factor's foundation. I can't stand it, especially not on my own face. Strike one!
Now, I purchased the shade called "Buff" because in the minerals, I am "Nude Buff" and usually colors tend to correspond. Well, the Buff shade was too light. There are about 4 color choices at my CVS, so I knew I wasn't going to find a closer match than this even if I attempted to go back. Strike two! The coverage was
mediocre
. You could see the streaks that this formula applied in, and it was difficult to blend because it turned to that thick "powder" so quickly. Once it "sets" it looks a little better... but for this just wasn't agreeing with my face, and certainly wasn't the look I was going for. Yup, that's the third strike, ladies.
No one with a large pore problem, combination skin, or dry skin should try this.
Ever.
It will settle into every pore and highlight bumps and flakes like no one's business. Bumps and flakes
should
instead, truly be no one's business! They should be treated, exfoliated off, moisturized, and covered, if necessary. Milani
failed
at the covering part. I'd say the coverage was about light to medium, but if I even built up to medium my face would've caked up and shriveled dry. If Milani was benched at this point for striking out, they would now just be kicked out of the game entirely for creating this product.
So, overall, I am
genuinely
disappointed. MakeupAlley had be fooled with their "100% of reviewers would rebuy" statistic. Milani had me fooled with their otherwise good product reputation. Maybe this foundation works for some ladies, but not me... soooo, back to
CVS
it went! Gotta love that beauty-buyback guarantee!