I have decided to throw a little order into my blog here. I want to incorporate three official "days" onto the blog so that readers can know what to expect. The topics I'd like to include are: "Make it or Break it Monday", "FOTW Wednesday" and "Fashion Match Friday" :)
The first category will be an interactive poll for everyone to participate in that compares beauty, fashion, and style related things. I just figured this could be a fun way to start off the week. FOTW (Face of the Week) Wednesday is pretty self explanatory... as I realize I have never posted a FOTD and people are probably wondering when one is coming! This way I'm obligated to do one a week. And, Fashion Match Friday will give me a good opportunity to put up a weekly match. I love doing the Fashion Matches so that will keep me busy as well.
So, without further ado, here is the first Make it or Break it Monday post!
This week's poll is: What is worse, the "Whale Tail" or "Muffin Top"?
Vote, Vote, Vote!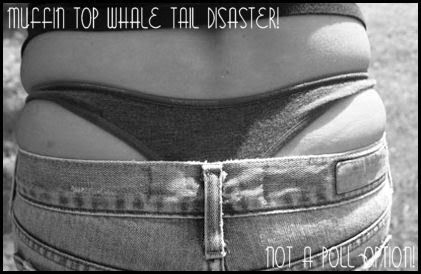 Sigh. Now, I am a heavier girl. Well, people tend to disagree with me on that, but I
feel
like I'm a heavier girl, and I know what looks good on me and what doesn't. I'm not going to into a rant about how heavier girls should not be wearing low rise pants because I believe
everyone is entitled to wear what they feel comfortable in
, but just make sure it
fits
you! A muffin top means,
"Hey! guess what, your pants are too tight around the top!"
and you should really buy the next size up. I am bigger around the middle and I have slim legs, and this advice really comes close to my heart:
Don't be afraid of buying the right size.
Who cares what the numbers say, what's important is that your pants fit, look good, and that you are comfortable. Cut the tags out if you have that much of an issue with size!
As for the whale tail, I have nothing to say. Don't hike up your thong if you are wearing extra low rise pants. Don't bend down if you are wearing extra low rise pants.
Don't wear extra low rise pants!
If you must, try layering a camisole under your shirt and tuck it in to your jeans. Better to show a cami bending down than your underwear! If you are self conscious about muffin tops and whale tails and your middle, try out something like the Tummy Tuck Jeans (hint:
Giveaway!
) that will prevent BOTH!
Some other stylish alternatives:
Forever 21 Lindy Trouser Jean $29.80
Seven Jeans High Waist Boot Cut $165.00
MK Signature Stretch Jean $99.50
I know this post was extra long, so thanks go out to those of you who stuck with it! Hope you enjoyed Make it or Break it Monday and I hope you have a fantastic week!