At the
rate
my Elliott Lucca purse shopping is going, I should really have an endorsement deal with Elliott Lucca/The Sak by now! Just kidding... unless Elliott Lucca is reading. ;)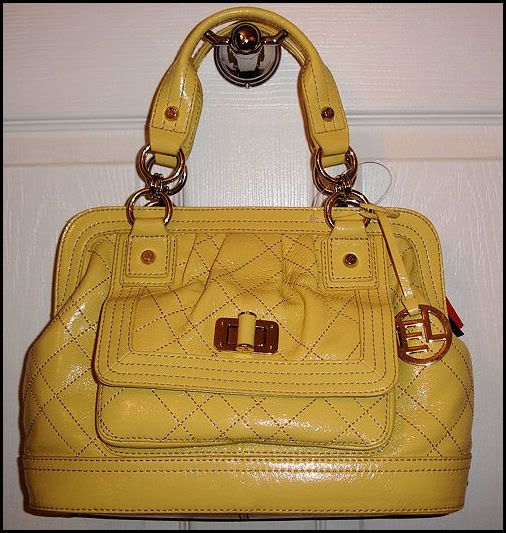 Anyway, tonight, on a whim, I purchased the
Elliott Lucca
"Helena" Satchel in "Sunlight" (suggested retail: $228.) from
Lord & Taylor
at a deeeeeeeply discounted rate. As in, it was on sale there already, plus a coupon for an additional 15% off, plus another 15% off for opening their credit card. Yeah. Pretty good deal, if you ask me.
I love it's sunshine yellow color, which is just excellent for Spring and Summer use! The shade is pretty accurately shown in the picture I took. I was hoping to find a picture of this bag online but I couldn't see it anywhere. Odd. But oh well.
By the way, this is my
third
patent leather
purse in the past month and a half.
Yeah, that's bad.
Regardless, I can't wait to use it! I DO want to wait until the weather warms up to break it out though. I really am loving the quality of these Elliott Lucca bags so far, they are just awesome. This one has a frame shape and is medium sized, perfect for carrying just the right amount of stuff.
What do you think?! Love it? Hate it? Let me know!