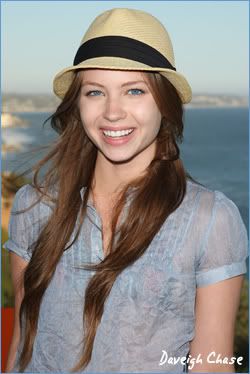 Looks like Daveigh Chase is back on the scene! Who? That girl, you know,
sevvven daysss...
-- The Ring... Hello!? Anyone know what I'm talking about?
If her name sounds familiar it is because she played Samara, the creepy well-dwelling girl from that horror flick,
The Ring
! If not, then lets welcome a newbie on the scene. It looks like Daveigh is all grown up now!
Daveigh Chase is starring in a new film called 'S. Darko', which is a continuation to the 2001 cult classic, Donnie Darko. The film is due to be released in 2009, and I can see this girl making a big comeback, or entrance, since she was really too young to be noticed before.
Style-wise, I love this look she wore to the Boost Mobile barbeque! She looks very summery and age-appropriate. To steal this preppy, classic look, check out my recreation using budget friendly items :)
Dobby Tuxedo Shirt in "Poolside Blue" from The Gap ($44.)


Hat Attack Toyo Braided Fedora with Blue Ribbon - Bloomingdales (Sale $53.)

What do you think? Would you wear it?
Image Credits:
Celebutopia Forum - User "Terminator"
http://www.celebutopia.net/forum/showthread.php/daveigh-chase-boost-mobil-barbecue-project-beach-house-84158.html