Hello ladies! Hope your week is going well so far!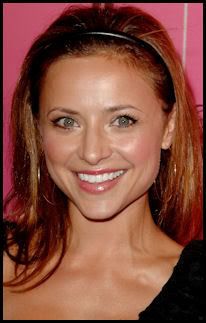 Want to get Christine Lakin's gorgeous, confident smile? Try
DentaBurst
!
I recently got the opportunity to test out which is a quick and easy alternative to gum or mints. Nothing helps boost your confidence like having a fresh, clean, healthy smile. This portable product helps remove plaque and banishes bad breath, leaving teeth smooth and clean.
Spicy nacho spinach dip? Garlic tuna salad? No problem! DentaBurst is a great way to freshen your breath instantly, while having the added bonus of cleaning your teeth on the go.
Just unwrap the individually wrapped DentaBurst, slide it over your finger, and gently rub over your teeth. This may look a little funny, but it is like having a toothbrush on the go. They are super minty, so go slow at first!
Wanna try DentaBurst?
The first five comments on this post will each win a 12 pack of DentaBurst Freshening Teeth Cleaners!
Leave me your email and a beauty/haircare/style question, and a pack of DentaBurst could be yours :)
*One comment per person, and please keep it in the US.
For more information, check out DentaBurst's website,
here
.
Thanks and enjoy!