Catherine Zeta Jones' look
for the opening of Elizabeth Arden's store on Fifth Ave!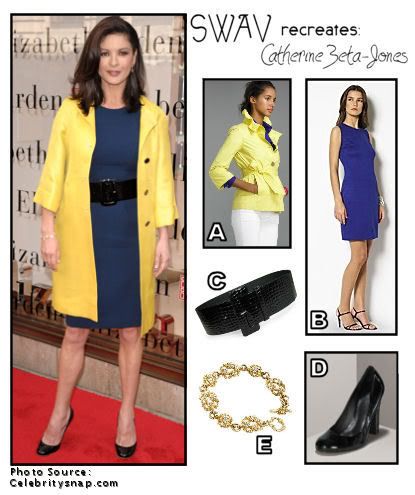 What I used:
A) Lauren by Ralph Lauren "Ponte Cross Sectioned Harriet Sheath Dress"
$140. at Bloomingdales.


B) Italian paper-poplin raincoat in "Sour Lemon"
$158. at J. Crew. (I know it's shorter, but I thought it was almost

more

stylish)

C) Ladies Wide "High Waist Croco Print Patent Leather" Fashion Belt
$14.20 on Amazon. (A bargain find compared to the rest, no?)


D) Tory Burch "Colin" Pump
$295. at Bloomingdales.


E) Stephen Dweck "Branch & Flower" Link Bracelet
Available at Bag, Borrow or Steal.
What do you think? Would you wear it?