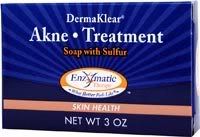 Sorry I've been post-free for a few days! I've been under the weather, but I'm back and better now!
I'm posting today to talk about yet another Whole Foods find,
DermaKlear
Enzymatic Therapy Akne Treatment. If you're like me and traditional cleansers like Clean & Clear and Neutrogena have left you less than "under control", then perhaps you should look into DermaKlear! The sulfur content, 5%, in this soap is highly effective in cleansing the pores, limiting whiteheads and blackheads, and most importantly controlling acne. According to
Wikipedia
, sulfur acts as a mild reducing and antibacterial agent. In fact, sulfur has been an effective treatment for acne for quite some time... and for just around $6. this soap containing 5% sulfur is definitely a good buy.
I won't go as far as to call it a miracle product, but it's proven effective if used twice a day. If you have even moderate or minimal acne, this will get your skin in shape! There are a lot less additives than traditional acne soaps... but since there are no added fragrances, you will smell the sulfur a little bit. Since it's a bar soap, it can be a little bit drying, so make sure to moisturize extra well afterwards. I apply some Benzoyl Peroxide (10%) afterward, and then moisturize with 1/2 Pure Aloe Vera Gel and 1/2 Pure Glycerin. It seems to be working pretty well, as I've been doing this for a little over two weeks now.


Make sure you don't get this product in your eyes! It really stings!
If you like the sound of this product, DermaKlear also offers an AkneZyme line of vitamins and herbal supplements to go along with the regimine, mainly focusing on Vitamins A, C, B and Zinc. Although I have not tried the supplements, I have been taking a probiotic, which might be another reason why my skin is clearing up.
Regardless, check out the
DermaKlear
because it really works!