Hello my lovelies! Today I picked up a few things at
Walgreens
, as they were having a Buy-One-Get-One on L'Oreal nail polishes and lip colors! I can't resist a deal, hehe. Here's what I got!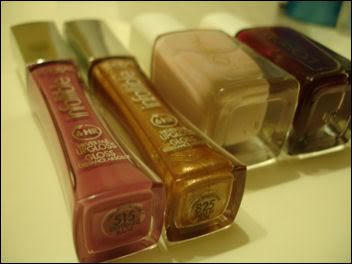 L'Oreal Paris Nail Polish in "How Romantic" and "Breaking Curfew". I was in dire need for new polishes, for my toes of course... and I loved these two shades. Particularly the darker one, because it's such a rich color with no shimmer! Can't wait to try 'em out.
I also bought L'Oreal Infallible Never Fail Lipgloss in "Dulce De Leche" and "Undeniable Mauve"! A girl can never have too many lipglosses, right? I particularly like Undeniable Mauve, because it is so smooth and wearable. It just
feels
good, especially because there are no sparkles or shimmer particles in it. But the other shade is a nice nude-y neutral so that is good too.
I tried them on for ya'll... what do you think?

I know, I know, I definitely have these colors elsewhere... but what can I say, I'm always attracted to the same colors! Does this happen to anyone else?