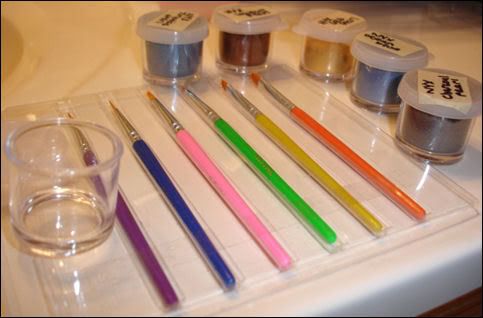 My grandmother once told me, there is no need to spend excessive money on makeup brushes, when you can buy brushes at an art supply store for about 1/3 the price. I shrugged off this statement, thinking that art brushes were too long and big to be portable in a makeup bag. Today I visited my local
A.C. Moore
and I was very pleased to find Royal & Langnickel's Compact Art Series. This collection features art products miniaturized and placed in a compact-disc style holder. Gimmicky? Maybe. But regardless, I purchased a good quality brush set (6 pc.) for only $2.99!!! I use Royal & Langnickel brushes with acrylic paints when I am feeling artsy, so I know that this brand doesn't make brushes that will fall apart on you. The brushes are quite small, good for applying lip liner or lipstick or (and this was my main intention) gel eyeliner. And for less than $3, you really can't go wrong here.
Also, I picked up some Loew Cornell Storage Cups (12 for $2.99) to place my de-jarred NYX Ultra Pearl Pigments. If you have NYX pigments that you haven't taken out of the original container yet, I highly recommend doing so... the twist off jar allows for too much spillage and therefore wastes your precious $0.99 product! Anyway, in moving the pigments, I found that the size of the cups and the size of the NYX jars are perfectly similar, leaving you just a little extra room. The cups are smaller and have a sealing tab lid instead of a twist off, so there is less chance for leakage. These would be great for putting glitters MAC Pigment samples in.
Do you have any craft store tricks or finds? Let me know!