Happy Valentine's Day girls!!
I've decided to perpetuate the kissy-face stereotype of the holiday by sharing with you some of my favorite "dressy" lip looks! ;)
Now, normally I will just throw on a lip balm or a quick gloss... so these are my slightly-more-put-together looks that take a little bit more effort (not much though, lol). Take a look!
Here (on the right) is look #1, a neutral rose. I used
NYX Lipliner
in "Natural" and NYX Black Label Lipstick in "Dusty Rose".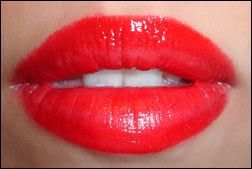 Look #2 (to the left, to the left) is my super-bright red look, for which I used Jordana Lipliner in "Hot Pepper", L'Oreal in Colour Riche "British Red" and
L'Oreal HIP Lip gloss in "Enticing"
.
Look #3 (last, but not least) is a glossy blue-based light pink. I used
NYX Lipliner
in "Barbie Pink", and layered Paul & Joe Lipgloss in "01" with Styli-Style Plastique in "Ultra Violet".
Let me know what you think and enjoy this lovely Hallmark holiday with someone special! :)
P.S. - Funny how my camera makes it look like my skin is three completely different tones!